These are my personal opinions and are no way affiliated with Leapfrog or any retailer selling Leapfrog.
We received our My pal Violet by Leapfrog via a gift from my mother. I loved how adorable the toy was in the store. You can purchase Scout (in green) or Violet (in purple). They have the same voice, but it just depends which color you prefer. Our My Pal Violet is from Wal-mart. They are available at K-Mart, Target, and Amazon as well.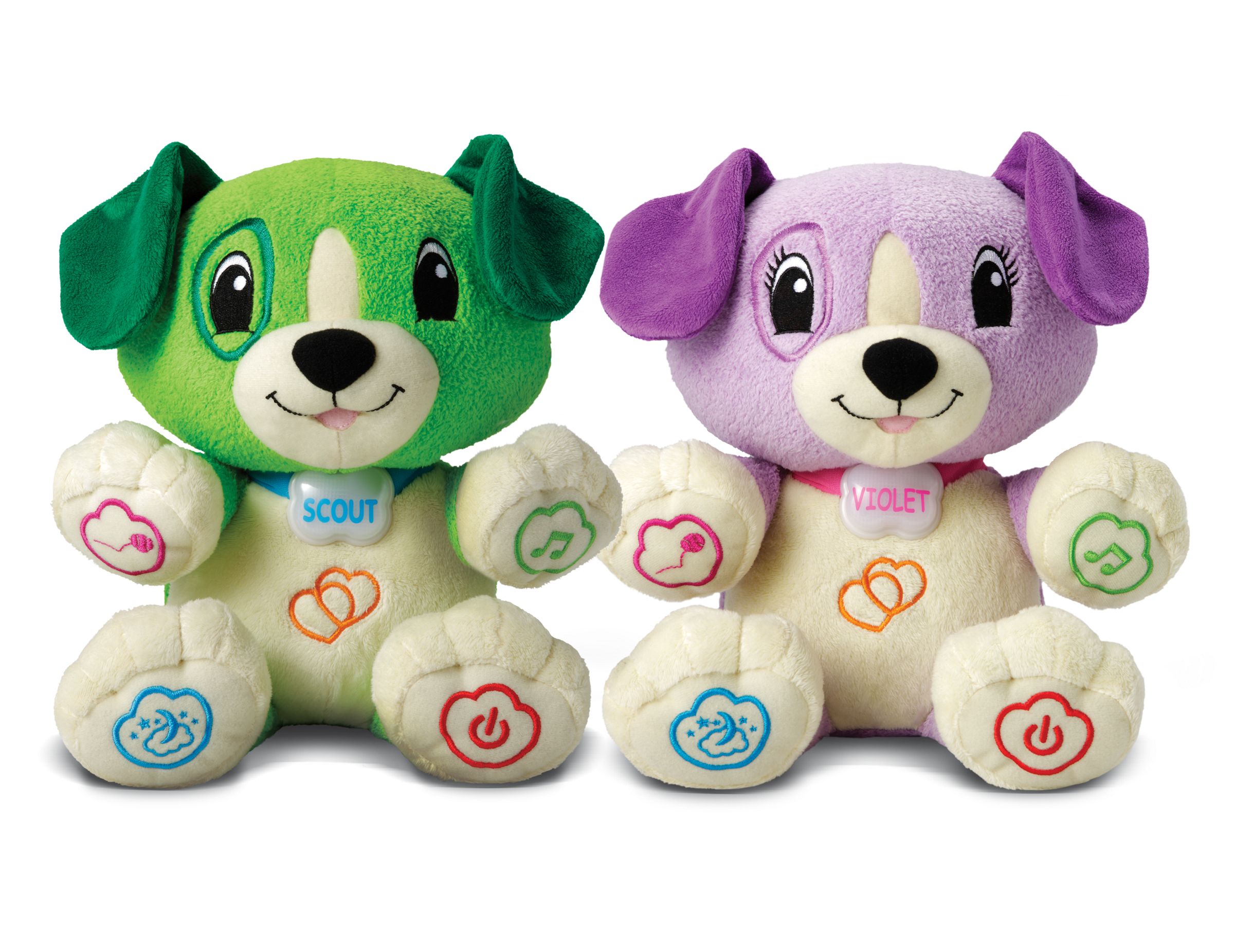 Age: 6 months to 36 months
First of all, I love the price of this toy! You cannot beat $24.99 with all the things this toy can do. The My Pal comes with a USB cord to hook straight into the computer, and Leapfrog software will automatically install. Once installed, you can customize your My Pal to say your child's name (from a list of pre-generated names), favorite food, favorite color, and even favorite animal. You can also pick the song selection available that will play when you press Scout's or Violet's paw with the green Music symbol. The red symbol on his or her right foot is the power on/off button (although, it turns itself off after each tune or saying). The blue symbol on his or her left foot plays bedtime music for your choice of 2, 5 or 10 minutes. The orange symbol on his or her tummy teaches your child about empathy and feelings, as the dog will say things like
"I'm feeling sad, May I have a Hug?".
The purple icon on the toy's left paw will play a game with your child by asking your child about colors, animals, and will even mention your child's favorites.
The toy can help teach your child to count, teach empathy, introduce daily routines (includes a morning, afternoon, and night mini-tune), and help children form their first words.
What I loved about this toy was that it will also play a little tune to help your child spell his or her name. I was also happy that it had my daughter's name in the directory (which is somewhat unusual for the name Raina). I am definitely impressed by Leapfrog products, and this one is no different. At six months, my daughter cannot fully understand everything Violet is teaching her, but she already loves to listen to the music, and smiles when Violet talks to her.
Pros:
Price - $24.99
Availability - Wal-Mart, Target, Amazon, K-Mart, Toys-R-Us, and Leapfrog.com
List of pre-generated names is fairly broad (including the name Raina, which is unusual)
Ease of use
Nice choice of customization options including favorite color, song, animal, and food.
Great learning toy, teaches a multitude of things such as feelings, counting, first words, and routines.
Cons:
Requires 3 AA batteries that are not included, and if used often has a somewhat short battery life (although we used ours ALL the time and ours died about two months into it)
Need Internet Connection to use My Pal customization (you don't need it to just use the toy as is, but it's a lot more fun if you can customize the toy).
In summary, I love the options this toy provides. I love that this toy is so easy to use. My daughter falls asleep with the bedtime music we chose the My Pal to play and she smiles when the dog talks directly to her. In all, the toy holds her attention (for a somewhat short time, but again she is on the beginning end of being able to use this toy as she is only six months old). We are very happy with the product, and would definitely buy from Leapfrog again.
Toy Awards:
2009
Baby Talk Magazine: Toys of the Year
Dr. Toy: Best Picks - New Products