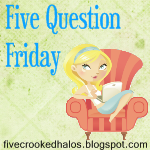 I love blog hops! I just recently found Five Question Friday - feel free to take the blog hop code at the bottom :) and visit Five Crooked Halos for the button code :)
1. What is the weather like where you are and do you like it?
Our winter weather in the south usually consists of no snow and 70 degree days. I absolutely love it. I am not a snow person. I was born in ND, so I had my fill of that. :) I migrated.
2. When you're sick what do you seek comfort from?
Warm apple cider is my best friend when I'm not feeling well. It also helps your voice come back if you have Laryngitis (which thinks I'm it's best friend - I seem to get it every year).
3. What do you need to do before the end of the month?
Finish quite a few more reviews and giveaways!
4. Have you ever served on a jury?
I have not, but I actually look forward to jury duty. lol. I'm waiting on my number to come up, it just hasn't yet.
5. If you could be any animal, what would you be and why?
A blowfish - If a blowfish is mad, no one messes with it. You poof up, and people know you are having "a case of the Mondays".