I received Cook'n software for the purpose of this review. My opinions are my own and are not influenced by any monetary compensation.
Cook'n
is a great new software to help organize recipes.
There are so many great features about Cook'n, I almost didn't know where to start.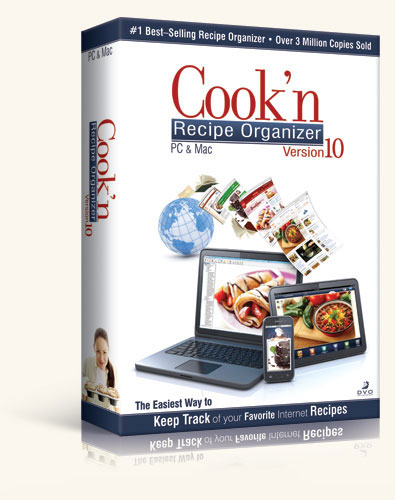 This information is provided via the Cook'n website:
Features:
Enter Your Own Recipes
Capture Recipes from the internet (simply click Capture and import into Cook'n program)
Add brand-name cookbooks
Adjust serving sizes (something I definitely need!)
Email recipes quickly and easily
Add recipes to a blog! A wonderful idea for the recipe bloggers out there!
Create meal plan menus.
Calculate recipe nutrition
Print and Publish cookbooks
and much more!
When purchasing the software you also receive:
Free software updates to Cook'n
License to install on multiple computers at no extra charge
Access to hundreds of brand name eCookbooks in the Cook'n format
One free cookbook of your choice - $30 value!
Access to hundres of recipes directly from the Cook'n website
350 of Cook'n best recipes with pictures that come preloaded with the program
Free month newsletters (only if you would like to receive them).
5 star customer service
I received my software at the most opportune time. My mother in law (who loves to cook) had just visited for Christmas and left several recipe cards with me. I try to stay organized, but when I have several recipes saved in my email, several in paper form, several on cards, etc - It's hard to remember where I put each one. I love being able to have all my recipes in one place, ready for me to use at the click of a button! Cook'n really does help make life easier. My six-month-old is now on the move, and this software really lets me save some time (that is rare and much-needed).
The ease of use is another thing I loved about Cook'n. Some organizing websites can be daunting, and leave you not sure what you got yourself into. Cook'n has simplified every task, with easy to use buttons, prompts, and more.
I was able to input this recipe and export it via HTML directly to this blog :)
Lasagna Rollups
---
1 box lasagna noodles
1 jar spaghetti sauce
1 pound hamburger meat
1 (8-ounce) container mozzarella cheese
1 (8-ounce) container Racotta cheese
Parmesan cheese

Cook lasagna noodles as directed.
Fry hamburger and add to sauce.
Combine cheeses in a bowl.
Drain Noodles.
Place 1/2 sauce in bottom of baking dish
Roll cheese in noodles, place on pan.
Place rest of sauce on top. Add mozzarella cheese on top
Have a Cook in your house?
Simply visit the Cook'n website for more details on how to purchase great Cook'n products the cook in any house will LOVE.
Cook'n was nice enough to provide me with a giveaway for one lucky reader! Thanks, Cook'n!
Enter via the Rafflecopter form below:
Entrants must be 18 years of age or older.
Winner will be notified via email. Winner has 48 hours to respond and claim prize, otherwise another winner will be chosen and original winner will forfeit prize.
You may need to click "Read More" to view Rafflecopter entry form below.
a Rafflecopter giveaway